NEW GALLERY OPENS
Investment Company Regulation: The Intricacies of an "Enlightened Partnership"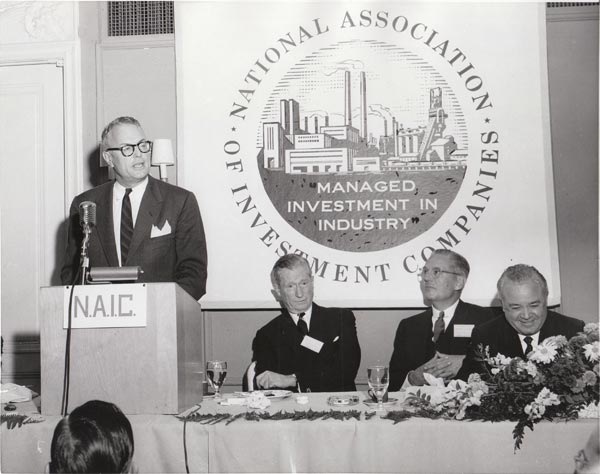 Visit the Gallery
DECEMBER 1, 2017 - The Investment Company Gallery, the Securities and Exchange Commission Historical Society's 16th permanent gallery, is now open in the Virtual Museum and Archive at www.sechistorical.org. As gallery curator Dr. Kenneth Durr, History Associates, Inc. explains in the introduction, this gallery shows how the investment companies that are today a cornerstone of American finance, developed out of a complex interplay between investment advisers, fund managers, and federal regulators who first came together to lay down enduring ground rules, and then over the next 75 years worked -- sometimes in harmony and sometimes in discord -- to turn a relatively homogeneous market into the remarkably varied, adaptable, and invaluable constellation of financial products still mostly bought and sold not by professional investors, but by average Americans.
The Investment Company Gallery covers a span from 1924 to today, and sources a wealth of new primary and original materials, including papers, oral histories and programs linked through a framework essay written by Dr. Durr.
The Investment Company Gallery is made possible through the generous support of W. Hardy Callcott, Partner at Sidley Austin LLP in San Francisco. The Society also thanks the Investment Company Institute and Andrew "Buddy" Donohue for their kind donations in support of this gallery. Finally, we gratefully acknowledge the support of the late Martin E. Lybecker, whose tremendous contributions to the world of investment management will be forever appreciated.