Museum
CAN REGULATORY AGENCIES PROTECT THE CONSUMER?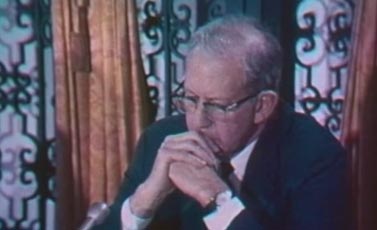 Treasures from the Collection
During the year, the virtual museum and archive will highlight significant primary and original materials on financial regulation unique to its collection.
Watch the 1971 television debate "Can Regulatory Agencies Protect the Consumer?" as part of the "Washington Debates for the 70s" series. Produced by the American Enterprise Institute and moderated by Peter Lisagor, the debate features former SEC Chairman Manuel Cohen in discussion with Dr. George Stigler, Chicago School of Economics, University of Chicago on the extent of the government's role in the competitive system.
While Dr. Stigler believes "competition is an enormously-powerful protector" and that regulatory bodies act in the best interest of the regulated entity, not the consumer, Mr. Cohen states that "regulation is essential to preserve competition and to make it fair" and trusts that "the interest of the demanding public will deal with the stultification of regulatory agencies." Despite such reminders of a time past as open smoking and the heavy sideburns of the men, the topics raised still resonate today. [Note: There is a short break at approximately 33 minutes to switch to the second reel.]