Regulating the Regulators: The Executive Branch and the SEC, 1981-2008
George W. Bush Administration
Cox Commission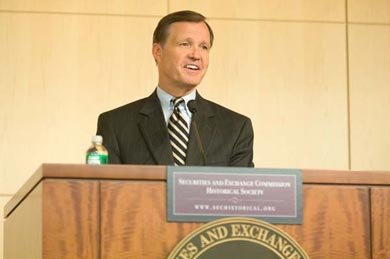 President Bush selected U.S Representative Christopher Cox (R-CA), a former White House staff member in the Reagan Administration, as his third SEC Chairman.  Using what was seen as the "reflexes of a career politician," Cox strove to restore comity within his Commission.  "Chairman Cox had spent a very substantial part of his career on Capitol Hill, and was thus particularly skilled at trying to maintain relations among Commissioners and the outside world."64
Technological modernization was a Cox priority.  The SEC released, as a replacement to EDGAR, an interactive disclosure system using computer-tagged data in the eXtensible Business Reporting Language (XBRL).   "Chris Cox was ahead of his time in a lot of ways.  With the XBRL project, he dragged everyone in the industry and the SEC, just kicking and screaming and scratching and biting, across the finish line."65
But in the enforcement area, it appeared as if the SEC was becoming all bark and no bite.  Wall Street and the business community pushed aggressively to roll back regulation, arguing that the United States was losing its competitive edge.   While Cox's speeches "always started off with that the SEC is a law enforcement agency, and he viewed it as the job of the SEC to enforce the rules of the road," spending on enforcement dropped from over $316 million when he assumed the Chairmanship in 2005 to $298 million by 2007.66
In March 2008, the securitization markets began to falter.  The Federal Reserve extended its role as an emergency lender, intervening to facilitate the purchase of investment house Bear, Stearns & Co. by JPMorgan Chase.  The Fed also took the unprecedented step of temporarily opening its discount window to make secured loans to primary dealers.  Cox was criticized for reassuring the public about Bear, Stearns' capital levels just days before the rescue; an internal watchdog report later found that the agency had failed to limit the bank's risk level.67
Later that month, Secretary of the Treasury Henry Paulson released a "blueprint" proposal to Congress to revise the financial regulatory system, giving more authority to the Federal Reserve, and combining the functions of many regulatory agencies, including the SEC and the Commodity Futures Trading Commission.  Cox assured SEC staff that, with his experience of Congressional process, such a proposal was unlikely to be enacted.68 
Beginning in September, a worldwide financial crisis led the U.S. government to take emergency actions to bail out or nationalize financial institutions exposed to distressed assets.  Fannie Mae and Freddie Mac were taken over by the Federal government.  Lehman Brothers, Inc. filed for Chapter 11 bankruptcy, Merrill Lynch was sold to Bank of America, and Goldman Sachs and Morgan Stanley were transformed into bank holding companies.  Washington Mutual Bank collapsed, the largest bank failure to date in U.S. history.  Congress approved the Troubled Assets Relief Program (TARP), a bailout package which would allow the Treasury to buy underperforming mortgage-related securities.  But the rescue plan failed to slow a global market meltdown.  Extreme volatility affected stock markets worldwide, with most suffering record declines. 
The SEC was viewed as a regulator unable to protect investors during what had become the worst financial crisis since the Great Depression.   In the midst of the 2008 Presidential campaign, "a Republican Presidential nominee [John McCain] talks about one of the first things he would do is to get rid of the Republican Chairman of the SEC.  It was an extraordinary moment in the history of the agency."69
The financial crisis of 2008 wrote one final chapter before year's end, a scandal that would come right to the SEC's doorstep.
---
Footnotes:
(64) Stephen Labaton, "Easy Sailing for Nominee to the S.E.C.," The New York Times, July 27, 2005; May 31, 2015 Interview with David Becker; May 6, 2015 Interview with Giovanni Prezioso
(65) April 29, 2016 Interview with Susan Wyderko
(66) Jenny Anderson, "Fears that the Market Watchdog is Losing Its Bite," The New York Times, April 8, 2008; July 27, 2012 Interview with Jonathan Burks
(67) Rachelle Younglai, "Cox leaves mixed legacy at SEC," The New York Times, January 4, 2009
(68) April 8, 2008 SEC Boston Regional Office gathering in commemoration of SEC 75th anniversary
Related Museum Resources
Galleries
The Municipal Securities Rulemaking Board Gallery on Municipal Securities Regulation

The Institution of Experience: Self-Regulatory Organizations in the Securities Industry, 1792-2010
Papers
April 19, 1994

image

pdf

(JT Ball Collection, University of Mississippi)

December 14, 1994

image

pdf

(Anonymous)

January 19, 1995

image

pdf

(Anonymous)

May 20, 1996

image

pdf

(JT Ball Collection, University of Mississippi)

April 5, 2006

transcript

pdf

(with permission of The George Washington University Law School)

January 2007

image

pdf

(Courtesy George W. Bush Library)

November 21, 2007

image

pdf

(Courtesy of Municipal Securities Rulemaking Board)

December 7, 2007

image

pdf

(Courtesy George W. Bush Library)

January 9, 2008

image

pdf

(Government Records)

January 19, 2008

image

pdf

(Courtesy George W. Bush Library)

January 26, 2008

image

pdf

(Courtesy George W. Bush Library)

March 10, 2008

image

pdf

(Government Records)

March 15, 2008

image

pdf

(Courtesy George W. Bush Library)

March 18, 2008

image

pdf

(Government Records)

March 29, 2008

image

pdf

(Courtesy George W. Bush Library)

May 3, 2008

image

pdf

(Courtesy George W. Bush Library)

June 2008

transcript

pdf

(Courtesy of Paul Atkins and Bradley Bondi; with permission of the Fordham Journal of Corporate and Financial Law)

June 3, 2008

image

pdf

(Courtesy George W. Bush Library)

June 24-25, 2008

Meeting of the Federal Open Market Committee

(Government Records)

July 2, 2008

image

pdf

(Courtesy of George W. Bush Presidential Library and Museum)

July 24, 2008

image

pdf

(Government Records)

August 5, 2008

image

pdf

(Government Records)

September 7, 2008

image

pdf

(Courtesy George W. Bush Library)

September 19, 2008

transcript

pdf

(Courtesy of Walter Schuetze)

September 19, 2008

transcript

pdf

(Courtesy of Walter Schuetze)

September 29, 2008

image

pdf

(Government Records)

September 30, 2008

image

pdf

(Courtesy of an anonymous donor)

October 2008

image

pdf

(Courtesy of Eugene H. Rotberg)

October 10, 2008

image

pdf

(Courtesy George W. Bush Library)

October 17, 2008

image

pdf

(Courtesy George W. Bush Library)

October 17, 2008

image

pdf

(Courtesy George W. Bush Library)

October 24, 2008

image

pdf

(Courtesy George W. Bush Library)

October 28-29, 2008

Meeting of the Federal Open Market Committee

(Government Records)

November 13, 2008

image

pdf

(Courtesy of George W. Bush Presidential Library and Museum)

December 15-16, 2008

Meeting of the Federal Open Market Committee

(Government Records)

December 20, 2008

image

pdf

(Courtesy George W. Bush Library)

December 21, 2008

image

pdf

(Courtesy George W. Bush Library)

December 21, 2008

image

pdf

(Courtesy George W. Bush Library)

December 22, 2008

image

pdf

(Courtesy George W. Bush Library)
Oral Histories
21 May 2015

David Becker

04 August 2015

David Bergers

27 July 2012

Jonathan Burks

05 May 2011

Michael Halloran

09 November 2010

Conrad Hewitt

29 August 2012

Edward E. "Ted" Kaufman

06 May 2015

Giovanni Prezioso

29 April 2015

Erik Sirri

10 September 2013

Linda Chatman Thomsen

29 April 2016

Susan Wyderko
Programs
01 November 2007

Keeping the Markets Open - Lessons Learned from the 1987 Market Break

Moderator: Brandon Becker

Presenter(s): Andrea Corcoran, Christopher Cox, William Johnston, Richard Ketchum, David Ruder, Erik Sirri

06 June 2007

Beyond Borders - A New Approach to the Regulation of Global Securities Offerings (Eighth Annual Meeting)

Moderator: David B.H. Martin

Presenter(s): Craig Beazer, Alan Beller, Edward Greene, Elisse Walter

06 June 2006

Who's Counting? - The Critical Role of Financial Reporting in the Capital Markets (Seventh Annual Meeting)

Moderator: Robert Kueppers

Presenter(s): Pat McConnell, Donald Nicolaisen, Aulana Peters, Lawrence Salva, Scott Taub